Ultimate Physician Consultant Guide - Boost Healthcare Success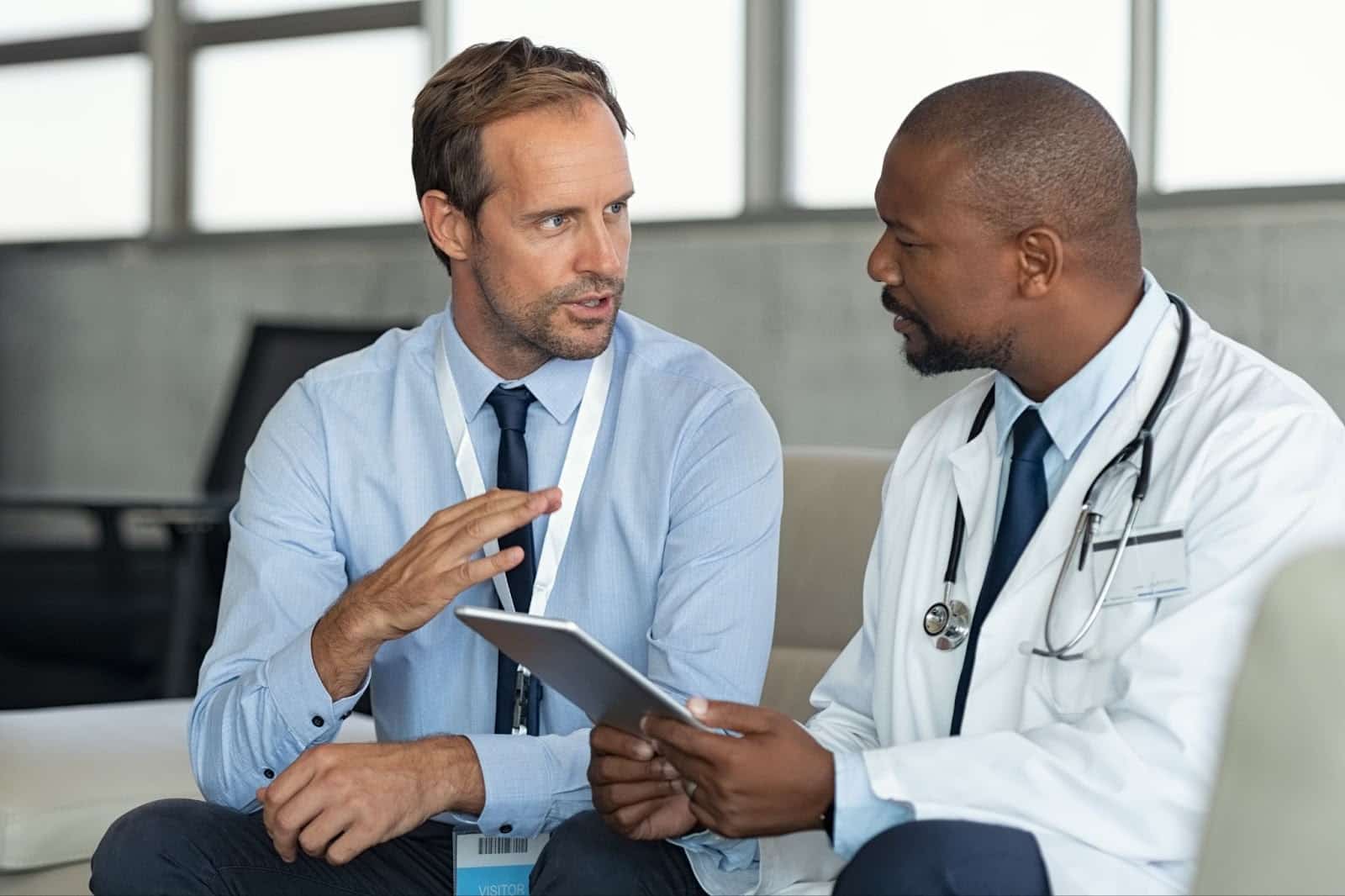 Are you a physician looking to cross over into the consulting world? Surely you have many questions and concerns burning in your brain about taking this exciting career path.
We'd like to help you with this endeavor.
This article will cover everything from the basics of consulting to more advanced topics such as pricing strategies and marketing techniques.
With practical tips and real-world examples, this guide is a must-read for any physician looking to break into consulting.
---
What is a Physician Consultant?
Traditional physicians work with patients. Their responsibilities include the diagnosis, care, and treatment of disease and illness.
Physician consultants, on the other hand, work with healthcare or other industry executives. They do not use their expertise to care for individual patients, but rather to further their client's business goals.
The role of one physician consultant can be drastically different from another, depending on the industry using their services.
Hospitals
If a physician consultant is hired by a hospital or medical center, their purpose is to help improve the daily functions, patient relations, and employee relations in the hospital. They may also be used to find ways to increase profit and accomplish business objectives.
Law
If an attorney hires a physician consultant, they are generally used as an expert witness for malpractice claims or as an expert witness for criminal acts causing injury or death.
Labs, Devices, and Pharmaceuticals
Physician consultants providing services for a laboratory, medical device production line, or pharmaceutical company may be asked to oversee trials or corroborate the benefits of products.
---
Why Become a Physician Consultant?
Why would a licensed physician give up their prestigious position to work as a consultant?
Let's look at the most noteworthy benefits of becoming a physician consultant.
More Money
The earning potential of a physician consultant is significantly higher than the average physician's salary.
We'll get deeper into that soon, but the fact is that as a consultant, you can earn as much as a physician practicing medicine.
Flexibility
Being a consultant is much more flexible than delivering patient care:
Make your own schedule.
Pick and choose which jobs you take.
No on-call hours
Plenty of work-from-home options
If you love medicine but hate the rigorous schedule, consulting may be just the thing for you.
Lower Risk than Practicing
Consultants have little to no risk of dealing with malpractice claims and lawsuits due to their profession. With almost no patient interaction, there is much less to worry about. It takes a lot of the stress facing many physicians off the table.
Physician burnout, depression, and the many other negative emotions they face daily are a real concern.
If you are worried about your well-being as a physician in this hectic healthcare system, perhaps you should seriously consider becoming a consultant.
Fewer Expenses to Worry About
As we already mentioned, consultants do not need malpractice insurance. (Although consultants should still invest in disability insurance. Learn why here.)
According to the American Medical Association, this can save some specialists over $100,000 annually.
Consultants will not need to pay for the rental or purchase of a medical office to open their own practice. Many consultants work from the comfort of their own homes. There is also no need to pay employees or physician assistants. Physician consulting is a solitary job.
---
Why Do Physicians Make Good Consultants?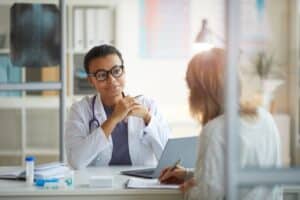 Physicians:
Have extensive knowledge and experience
Are logical and structured
Are efficient and tenacious
Are authoritative, trustworthy, and respected by the public
Can empathize and have high emotional intelligence
---
Steps to Becoming a Physician Consultant
Now that you know all the fantastic benefits of choosing to consult in your medical career, you may wonder what is involved and how to get started.
Follow these steps to become a physician consultant:
1. Become a Licensed Physician
Like any physician, your first step to becoming a consultant is to complete your undergrad programs and earn at least a bachelor's degree in science.
You'll then need to take and pass the MCAT, and then enroll in medical school. After earning a medical degree, you'll begin and complete your residency in your chosen specialty.
You can do a fellowship if necessary or if you choose to gain more training in a subspecialty of your choice.
Lastly, you must become a licensed physician in your state.
2. Get Clinical Experience
Unfortunately, you can't come fresh out of residency and begin consulting full-time.
Consultants need to know the ins and outs of practicing medicine, and the only way to gain that knowledge is through clinical experience. Aim to gain experience in your specific niche or specialty that you plan on pursuing as a consultant.
3. Learn the Medical Business
As a consultant, you may be asked to help with the administrative needs of a hospital or medical center. To do so, you'll have to have a good understanding of the best practices in this area.
A physician has a unique position to think not only like a business person but also like a doctor.
You can advise on how to best allocate healthcare spending without detracting from the quality of care a hospital offers its patients. You will also need to be aware of the financial issues facing medical practices, such as billing challenges, common insurance policies, etc.
Most physicians will learn some of these tactics through years of practicing medicine, but you can expedite the increase of your knowledge bank through courses and other online training.
Timeline
How long does the process take to be ready to take the consulting plunge?
Education: 8 years
Residency and Fellowship: 3-10 years
Clinical Practice: Preferably 5 years or more
---
How to Get Your First Clients as a Physician Consultant
The biggest challenge that a startup consultant faces is landing their first client. They have no prior experience in consulting to prove their abilities.
This can be difficult, but with a few tips and tricks, it can be easier than expected.
1. Fill Out Applications
The first step is to apply to as many different research and consulting companies as possible. The more you widen your application pool, the better your chances of success.
Look for consulting opportunities on physician job boards such as DocCafe, Physician Job Board, and MDSearch. Virtual Vocations and flipMD list plenty of remote consulting jobs for physicians as well.
It would also be wise to sign up for job alerts on Google and Indeed. This will make you among the first to know of new opportunities available.
2. Do Pro Bono Work
Working for free may not seem ideal, but when you are just starting out, this might be a wise move. It gives them a little taste of your knowledge and expertise, while you gain valuable resume experience. Pro Bono work can lead to many referrals for paid jobs.
3. Network
Networking can make it possible for just about any professional to find clients, jobs, opportunities, and new ideas. When a consultant does it right, networking can make their career successful, especially when they are just starting out.
Find other physician consultants by attending conferences, joining associations, and just asking around. Pick their brain and find ones that you especially admire. Ask them if they'd be willing to mentor you.
Aside from traditional networking events like conferences and meetings, be open to online webinars and meet-and-greets. Be sure your LinkedIn profile is up-to-date and looks professional. Participate in discussions on this platform and help others with questions you can answer. You never know if these individuals may become a client in the future or know someone who will.
Speaking of answering questions, one of the best ways to make your name known is to answer questions on HARO (Help A Reporter Out). If a reporter chooses to use you as a source, your name will be published in whatever media outlet that reporter is from.
4. Find Your Niche
Find your specialty and use it. This could be a specific medical specialty or a certain type of consulting to narrow your competition. Ask yourself:
What sets you apart?
What are you most experienced in?
Do you have any special skill set?
The answers to these questions can help you find your niche in the physician consulting world.
---
The Types of Physician Consultants
When it comes to searching for consulting opportunities, you will notice that the job descriptions vary widely. Consulting is nowhere near a cookie-cutter profession. There are many different positions to pursue.
This list covers the bulk of the types of consultants a physician can become:
Medical Survey Consultant
Research companies will often pay physicians to participate in surveys and market research. Many times, these surveys require a physician to answer questions that deal with their daily life, either professional or personal.
Medical Device Consultant
Medical device manufacturing companies will use a physician consultant to ensure they make a product that would be useful to other physicians.
Pharmaceutical Consultant
Pharmaceutical companies will use physician consultants in various ways, such as overseeing clinical trials of their new drug or endorsing a new product.
Expert Witness Consultant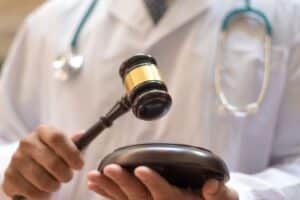 Attorneys will often require a physician's expertise to corroborate a case's medical facts.
Insurance Consultant
Insurance companies will hire a physician consultant to look into malpractice claims and provide their expert opinion.
Physician Coach
These consultants advise other physicians who want to open their own practice or advance their careers in some way.
Clinical Management Consultant
These professionals are used to help manage smaller clinics. They can consult on any aspect of a clinical practice, such as:
---
What is the Earning Potential of a Physician Consultant?
We promised we'd come back to it, and here it is. How much can a physician consultant really expect to earn?
The answer really depends on the person. You can set your own rates; the more specific your expertise, the higher you can charge. It's important not to sell yourself short, even when you are just starting out.
Why? Well, because the demand is there, and it's not going anywhere anytime soon.
According to The Economic Research Institute, the current average salary of a physician consultant is $380,807, and this number is expected to rise over 20% by 2028.
To put things in perspective, the average family physician earns $255,000, the average salary for a neurologist is $301,000, and an Ob/Gyn makes an average of $336,000, according to Medscape.
This data shows that as a physician consultant, you can potentially earn more than the average salary of over half of the biggest medical specialties out there.
Can You Consult as a Side Gig?
Absolutely! You can be a consultant full-time, part-time, on the side, however, you choose.
Since many consultant gigs require that you have recent clinical experience, the popular route by physicians is to continue practicing medicine as locum tenens and pick up consulting jobs in between.
Make sure you discuss this with your employer. Some employment contracts have stipulations that require you to pay a portion of your earnings to the employer, while others simply don't allow it at all.
---
Tips to Ensure Lasting Success as a Physician Consultant
How can a physician ensure success in their new consulting endeavor? Follow these tips below:
Set Up Quarterly Tax Payments
Most jobs will consider you a contractor, not an employee, so you will be paid through 1099, not a W-2.
This means that you must pay self-employment taxes which can add up quickly. To ensure you don't get behind on taxes, set up quarterly tax payments instead of one lump sum at the end of the year.
Protect Yourself
Business Liability Insurance and Errors and Omissions (E&O) Insurance are a must for physician consultants. They will protect your finances should any legal issues arise.
When accepting a position or gig, always get a written contract. Clearly outline your expected duties and responsibilities, as well as the compensation for the position.
With things in writing, you have fewer possibilities of being jilted. Most consultants charge a per-hour rate instead of a flat fee, in case a job takes longer than expected.
Also, when reading over the contract, always check for non-competes. These can make it difficult for you to obtain other consulting jobs for many years.
Focus on Repeat Clients
It takes time to land a client. Look for jobs that have ongoing work instead of one-and-dones. These will provide guaranteed income on repeat.
Become THE Expert
Do your utmost to make yourself known as "THE" expert on your specific niche:
Write a book.
Be an expert speaker at events.
Create a website.
Go above and beyond the competition.
Brand yourself online by posting on social media and guest blogging.
All of these actions are like putting up billboards for your services.
---
Conclusion
The basic thing needed to become a consultant is to be a licensed physician with some clinical experience. Beyond that, you need the desire and drive to set yourself apart from the competition.
The benefits you can expect from pursuing this goal include higher pay, more flexibility, and a more easy-going professional life.
To focus on that, let LeverageRx help on the loans and insurance aspects.