Disability Insurance for Veterinarians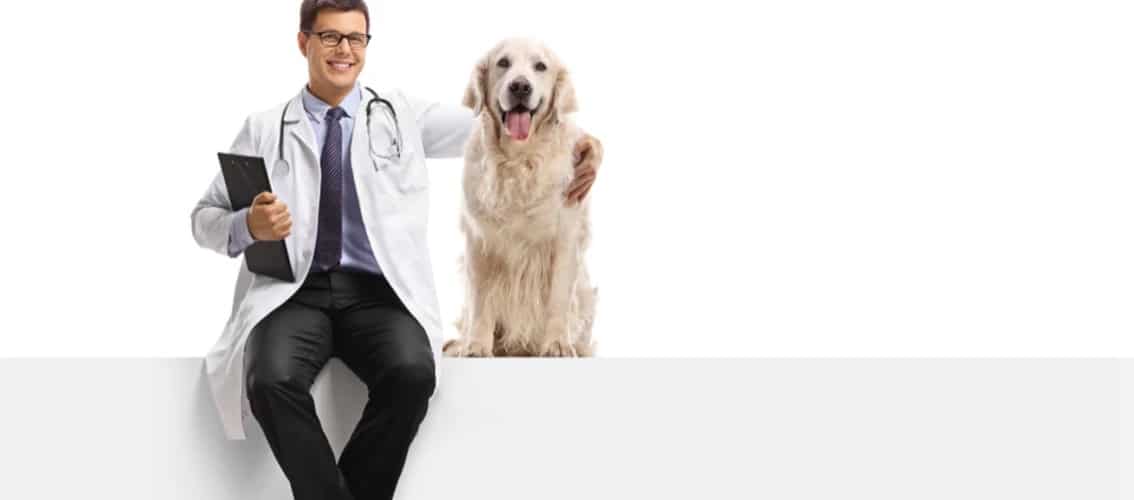 You love animals. That's why you dedicated your career to their care.
Whether you're keeping family pets healthy or treating livestock for local farmers and ranchers, being a veterinarian is a calling.
But it's also how you make a living. According to US News and Report, the average veterinarian earned $88,750 in 2016.
Why every veterinarian needs disability insurance
If an illness or serious injury affects your ability to practice vet medicine, the financial impact can be significant. Even a temporary disability could cause you to fall behind on your mortgage or car payments, rack up more debt, and be forced to sell valuable items or tap into retirement accounts for needed cash.
In addition, veterinarians, on average, have compiled more than $167,534 in student loans before starting practice. That debt doesn't go away just because you're physically unable to practice veterinary medicine.
That's why veterinarians should protect their income with a physician disability insurance policy.
Disability insurance is designed to replace a major portion of your income if you are unable to work due to injury or illness. If a disabling incident limits or even prevents you from practicing veterinary medicine, insurance benefits can help you pay your bills, cover living expenses, and cover your student loan obligations. If you have your own practice, a disability insurance policy can even keep it operating until you're able to return to work.
The best disability insurance companies for veterinarians
Disability insurance companies have different rates depending on what type of veterinarian you are. They also classify the profession based on whether you mostly treat large or small animals. That's because there is less risk of on-the-job injury working with small animals, plus there is a greater risk when working in rural areas, where most large animal care occurs.
Here's how the best disability insurance companies classify veterinarians and the expected cost for a healthy 30-year-old.
Disability Insurance Rates for Veterinarians – Large Animals
| Company | Occupation Class | 30-year-old male | 30-year-old female |
| --- | --- | --- | --- |
| Ameritas | 4A | $331.65/mo, $3,849.74/yr | $595.56/mo, $6,918.52/yr |
| Guardian | 3M | $327.32/mo, $3,813.51/yr | $522.13/mo, $6,083.13/yr |
| MassMutual | 3A | $338.22/mo, $3,911.90/yr | $542.66/mo, $6,275.30/yr |
| Principal | 3A-M | $290.62/mo, $3,318.70/yr | $561.94/mo, $6,416.90/yr |
| The Standard | 3P | $313.30/mo, $3,580.42/yr | $524.93/mo, $5,998.00/yr |
Disability Insurance Rates for Veterinarians – Small Animals
| Company | Occupation Class | 30-year-old male | 30-year-old female |
| --- | --- | --- | --- |
| Ameritas | 6A | $228.65/mo, $2,652.28/yr | $387.84/mo, $4,503.25/yr |
| Guardian | 5M | $214.06/mo, $2,494.02/yr | $340.93/mo, $3,972.07/yr |
| MassMutual | 5A | $213.67/mo, $2,471.90/yr | $324.37/mo, $3,751.70/yr |
| Principal | 3A-M | $290.62/mo, $3,318.70/yr | $561.94/mo, $6,416.90/yr |
| The Standard | 5P | $220.99/mo, $2,525.70/yr | $370.36/mo, $4,232.60/yr |
The rates provided above are based on the following assumptions:
The applicant is a non-smoker, in good overall health and with access to some common discounts
Quote assumes the client is 30 years of age, located in Colorado
Contains a true own occupation definition of disability that allows insured to collect benefits even if they're earning income somewhere else
The disability insurance plan pays $10,000 per month in benefit to age 65
Cost of living adjustment and partial disability riders are added
Additional considerations for disability insurance
When you need a future purchase option. If you're still in vet school or are just starting your practice, you should opt for a policy with a future purchase option. This feature enables you to buy more coverage at a later date, without having to go through additional underwriting. This way, as your income increases, you can obtain a larger benefit.
Consider getting a residual disability option. Many injuries and illnesses don't cause you to completely lose your ability to work. But they may be serious enough to limit what you can do or how many animals you're physically able to treat in a day or week. These limitations may lead to a decrease in income.
A residual disability benefits can help you make up any shortfall between your pre-disability and post-disability income. They are triggered when the insured suffers an established percentage of income because of their disability. The benefit you receive under the provision is typically proportionate to your lost earning power.
Obtain business overhead coverage if you have your own practice. If you're the partial or full owner of your own veterinarian practice, you should consider a business overhead expense (BOE) policy or rider.
Whereas regular disability insurance covers individual income, a BOE policy will help cover your monthly business expenses if an injury or illness impacts your ability to work.
BOE policies vary but you can typically get one that pays a maximum monthly benefit between $15,000 and $25,000. If you obtain BOE that is bundled with your personal disability policy, the maximum benefit may be a factor of that benefit amount; for example, the BOE benefit maximum might be equal to 12 times the benefit on your personal policy.
Purchase a benefit guaranteed to age 65. Disability insurance policies include a maximum benefit period. This is the amount of time your policy is guaranteed to pay benefits following a disability that impacts your income.
Many policies will pay for a set timeframe, such as two years, five years, or 10 years. After that, the policy will no longer pay benefits, even if the disability prevents the insured from working after that period.
If you have a policy that pays to age 65, you will collects benefits until you reach that age, regardless of whether you become disabled at age 35, 45, or 55. Again, this provision will cost more, but having protection that lasts your entire career is worth the expense. Otherwise, you run the risk of exhausting benefits too soon. To find the right policy for you, request your free quotes here.