Do Military Doctors Qualify for Disability Insurance?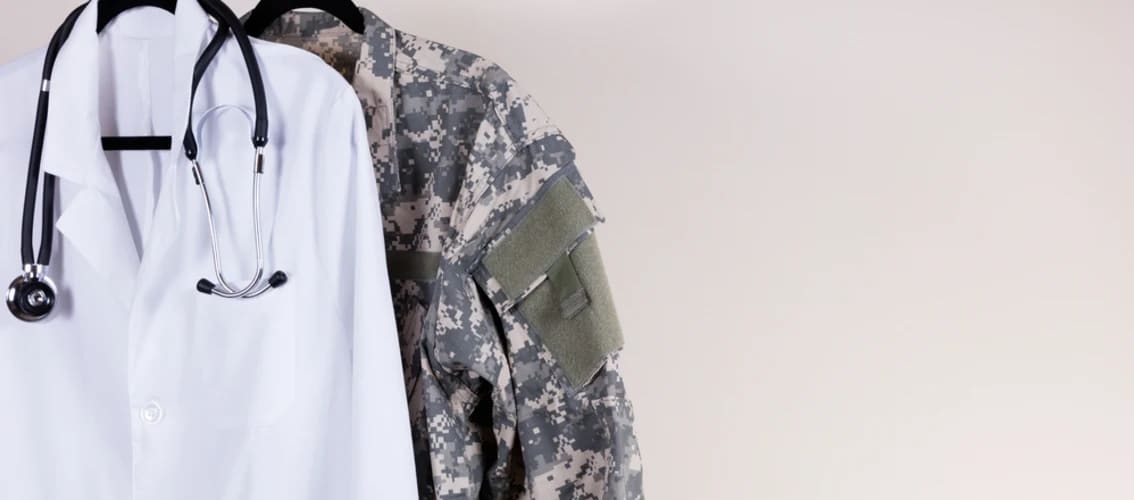 Disability insurance policies usually state that they will not pay any benefits if disability is caused by war or the result of military service. In fact, insurers typically will not even issue you a disability policy while you are on active duty status.
Military service greatly increases the risk of disability. Therefore, serving in the armed forces will impact a person's ability to qualify for and/or receive benefits from a disability insurance policy.
It is still possible for doctors with military service to qualify for disability insurance coverage. But physicians who are serving, have served or may be entering active military duty in the future need to understand the limitations on underwriting and benefits.

War and military service are key disability insurance policy exclusions
All physician disability insurance policies include exclusions and limitations to mitigate the insurer's risk of paying a claim for an illness or injury resulting from high-risk conditions or activities.
Disability insurance policies usually state that they will not pay any benefits if the disability is caused by war or the result of military service. In fact, insurers typically will not even issue you a disability policy while you are on active duty status.
One insurer's guidelines state that a person cannot apply for coverage if any of the following situations apply:
You are on active military duty or have call-up orders
You are a medical or dental resident or fellow who is graduating within six months from a civilian program but has a military pay-back obligation
You are a medical or student, resident, or fellow who is in or has been accepted into a military residency in a military hospital
Disability insurance companies allow you to suspend policies during active duty periods
However, several insurers will issue policies to service members who are currently not on active duty. And they give those individuals the opportunity to suspend their policies without completely forfeiting them in the event they are called to active duty.
Some of the suspension provisions offered by providers of physicians disability insurance policies include:
The ability to suspend your policy if you're about to go on active duty for at least 30 days.
You must request policy suspension in writing.
During policy suspension for active duty, you will not owe premium payments.
All policy benefits are suspended as well.
The policy may be restored if active duty ends within five years of the suspension.
The policy will be restored with the same features, benefits, and provisions as before the suspension.
You must request in writing that policy suspension be lifted. With that request, you must also provide your deactivation notice and payment of the premium due for coverage until the next premium due date.
You may have to request policy reinstatement within a certain timeframe of the end of your service, such as 180 days.
Disabilities incurred during active service are typically not covered
Perhaps the most important provision to consider with a policy suspension due to military service is that, even after reinstatement, the policy will not pay benefits if a disability-related to your active service occurs.
That means, for example, if your ability to practice medicine is limited by post-traumatic stress disorder (PTSD) caused by or related to your military service, the policy will not pay insurance benefits. This would be the case regardless if:
Your policy covered mental illness disabilities.
Your policy had an own-occupation provision.
Your PTSD led to complete or residual disability.
Another scenario is if you are physically injured due to military service and years later that injury resulted in an inability to practice medicine, you would not collect benefits. This would be the case regardless of whether the injury occurred during basic training, peacetime service, or actual combat.
One insurer that will continue coverage during active duty service
Whereas most insurers suspend policies and benefits when an insured goes on active duty, at least one insurer will allow active-duty personnel to continue their disability insurance coverage.
The Standard provides income protection coverage to men and women in the United States military and its coverage includes disabilities caused while on active duty, so long as they weren't caused by war or military training.
The Standard will not accept applications if you are already on active duty or have call-up orders, but it does accept applications from individuals in the reserves.
The company also accepts applications from dental and medical residents and fellows attending civilian ACGME, AOA or CODA-accredited programs who have military pay-back obligations but are not on active duty. Applications from these individuals must be submitted in time for coverage to be approved and a policy issued at least six months prior to graduation.
What's more, The Standard does not cancel or suspend coverage for insureds while they are serving on active military duty, as long as premiums continue to be paid. In effect, you cannot get a policy if you're on active duty, but if you already have a Standard policy when you're called up, you don't have to cancel or suspend it.
The company further states that a disabling injury or sickness incurred while on active duty in the military service, even during a time of war, is not automatically excluded under its policies. Depending on the specific policy provisions, some injuries and sicknesses may be covered even if they occurred while on active duty.
To find the right policy for you, request your free quotes here.