Disability Insurance for Surgeons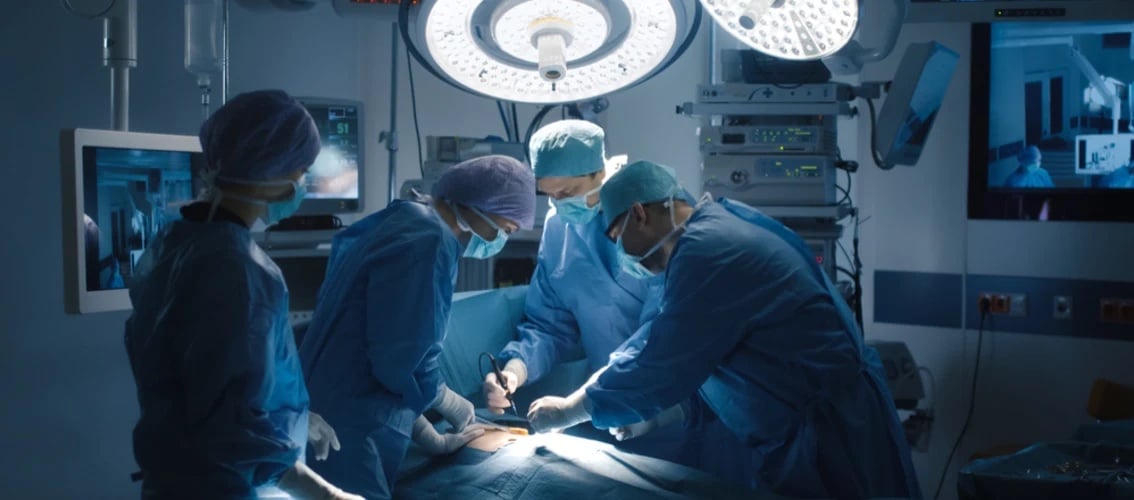 Of all medical specialties, surgeons are perhaps the most susceptible to a disabling injury or illness, one that would impact their ability to continue their profession.
Ailments that could still allow most professionals to continue working in some capacity can completely keep a surgeon out of work. Arthritis or carpal tunnel can affect your ability to hold instruments. Chronic pain in the back, neck, knees, or feet can prevent surgeons from standing for procedures. The long-term stress of the profession can impact mental stability.
Not to mention what would happen if an injury was serious enough to cause loss of eyesight, a limb, or the ability to stand or move without a wheelchair.
So what happens if, as a surgeon, you can no longer operate? What happens if you gradually, or even suddenly, lose the ability to earn your salary? Could you and your family continue your current lifestyle?
Pro Tip: Compare surgeon disability insurance rates in 2 minutes!
Why every surgeon needs disability insurance
According to Medscape's 2017 Compensation Report, surgeons earn an average of $364,000 annually. Over a 30-year career in medicine, this equates to over $10.9 million in potential earnings for a surgeon.
The financial impact of an unexpected injury, therefore, can be devastating. That's why surgeons should protect their income with disability insurance.
Physician disability insurance is designed to replace a major portion of your income if you are unable to work due to injury or illness.
Without disability insurance, you could lose a significant amount of income and all that your income supports if you're in a bad accident, lose your vision, or suffer an illness that affects your ability to perform procedures and treat patients.
Even if a disability is temporary, you could fall behind on your mortgage or car payments, rack up more debt, and be forced to sell valuable items or tap into retirement accounts for needed cash.
In addition, if you're like most health care professionals, you likely have a large amount of student loan debt. While student loans are often forgiven if the borrower dies, they are still owed even if he or she can't work due to a disability. Therefore, it's critical to ensure you have disability insurance to cover student loan bills if you can't make a living or have to take a lower-paying job.
Because of the medical school debt you've accumulated, it's important that you consider getting disability coverage during residency.
The best disability insurance companies for surgeons
Relative to other medical specialties, disability insurance companies consider surgeons to be a higher risk and place them in a higher occupation class. Because of this, surgeons will typically pay more for disability insurance.
Here's how the best disability insurance companies classify surgeons and the expected cost for a healthy 30-year-old located in Texas.
| Company | Occupation Class | 30-year-old male | 30-year-old female |
| --- | --- | --- | --- |
| Ameritas | 4M | $306.84/mo, $3,561.32/yr | $504.57/mo, $5,860.76/yr |
| Guardian | 3M | $327.32/mo, $3,813.51/yr | $522.13/mo, $6,083.13/yr |
| MassMutual | 3P | $379.41/mo, $4,388.00/yr | $548.96/mo, $6,348.20/yr |
| Principal | 3A-M | $290.62/mo, $3,318.70/yr | $561.94/mo, $6,416.90/yr |
| The Standard | 4S | $267.94/mo, $3,062.15/yr | $448.94/mo, $5,130.83/yr |
The rates provided above are based on the following assumptions:
The applicant is a non-smoker, in good overall health and with access to some common discounts
Quote assumes the client is 30 years of age, located in Colorado
Contains a true own occupation definition of disability that allows insured to collect benefits even if they're earning income somewhere else
The disability insurance plan pays $10,000 per month in benefit to age 65
Cost of living adjustment and partial disability riders are added
As a surgeon, it's critical that your physician disability policy contains the following features and provisions:

Surgeons should have own-occupation coverage
The most important provision a surgeon should have included in a policy is that a disability is defined as one that prevents the insured from working in his or her "own-occupation."
This means the policy will pay benefits if an injury prevents you from working in your chosen medical specialty, but allows you to do other types of work. For example, while you may not be able to perform surgical procedures, you could teach, work in a research capacity, or in another area of medicine. But any of those options would lead to a drastic reduction in income.
A policy without an own-occupation feature would not pay benefits so long as you're able to work in some capacity. With it, benefits would be paid so long as you couldn't perform the specific tasks of your surgical practice.
As you research policies, keep in mind that some explicitly prevent some specialists from obtaining an own-occupation provision, such as neurosurgeons and anesthesiologists. Make sure your specialty will be covered in full before signing up for the policy.

Surgeons should have a residual disability and a future purchase option
Residual disability is generally defined as being able to perform one or more, but not all, of the material and substantial duties of your occupation, or being unable to work in your occupation for a set percentage of the time. This would mean that you can still practice surgical medicine but have to limit the type of or the number of procedures.
Residual disability benefits are triggered when the insured suffers an established percentage of income because of their disability. The benefit you receive under the provision is typically proportionate to your lost earning power.
A future purchase option is especially important if you're still a surgical resident or just starting your practice. It enables you to buy more coverage at a later date, without having to go through additional underwriting, as your income increases.
To find the right policy for you, request your free quotes here.