4 Essential Types of Business Insurance for Medical Practices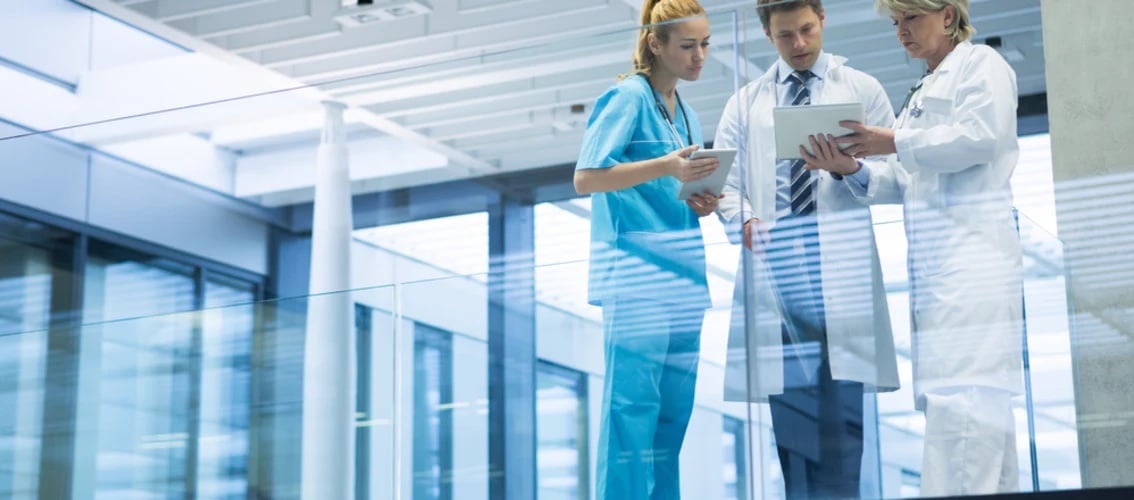 For private practitioners, recruiting the right people isn't enough to drive sustainable growth. You also need to retain your talent.
Millennial-friendly employee benefits like student loan repayment assistance are trending upward right now. But it's important that you cover what's tried-and-true, too. This means protecting your practice and your people from the expected and unexpected with various types of insurance.
Health insurance aside, this article details four "must-have" types of coverage for medical practice owners. Read on to learn more!

Group disability insurance
Commonly referred to as employer-sponsored disability insurance, group disability insurance covers a percentage of an employee's lost income in the event that they cannot work due to injury or illness.
When you enroll in a group plan for your practice, it's not just the employees who will benefit. This type of coverage can also present certain benefits to your practice as a whole.
Group disability insurance will help you attract and retain top talent. The best employees want to work at a place where they are being paid well and taken care of. This coverage will allow them to enjoy peace of mind knowing a portion of their income will be guaranteed in the event of a disability.
It will also accelerate a disabled employee's road to recovery. Group disability plans help to minimize the financial burdens on injured employees, helping them to pay healthcare costs. This can expedite recovery time so they can get back to work as soon as possible.
While a group disability insurance plan is certainly worthwhile for your medical practice, it's rarely enough for doctors. Typically, employer-sponsored plans offer less coverage and more limitations on how to access that coverage than individual plans. Of course, employees also lose that coverage if they leave their job.
That's why even if a medical practice offers group disability insurance, it's advisable that doctors put an individual physician disability insurance policy in place. Not only will this provide more complete coverage, but it will also stay intact if you switch employers.

Medical malpractice insurance
For medical practices, medical malpractice insurance is literally a must-have.
Otherwise known as professional liability insurance, it helps protect medical practices from legal consequences in the unfortunate event that you are sued by a patient.
Should any of your patients claim negligence or harm resulting from your doctor's failure to perform their job properly, medical malpractice coverage can help cover the costs of settlements and legal defense.
Speaking of cost, you're probably wondering how much this type of coverage will run you in the first place. The cost of malpractice insurance depends heavily on two factors:
Your medical specialty.
Your geographic location.
Learn more about the cost of malpractice insurance, or cut to chase and get an instant quote.

Business overhead expense insurance
If your ability to practice medicine is taken away by an illness or injury, disability insurance can help replace your source of income.
However, neither an individual nor a group plan will cover overhead expenses that accrue while you are out of office. That's where business overhead expense insurance (BOE) steps in.
Business overhead insurance helps cover certain types of expenses when you are temporarily out of the office due to an illness or disability. Covered expenses typically include:
Rent
Salaries
Taxes
Utility bills
Other office costs
Like disability income insurance, business overhead expense insurance affords you and your employees peace of mind. That way, things can keep running smoothly at your office while you recuperate at home.

Commercial property insurance
More likely than not, starting your medical practice will probably require some level of practice financing. Practice finance loans can help you acquire:
Equipment.
Furniture.
Medical supplies.
Other crucial fixtures.
However, if a natural disaster strikes or a robbery happens, how will you replace those items? That's where commercial property insurance comes in.
Property insurance is a type of insurance that protects the commercial property and personal property in the unfortunate event of:
An accident.
A natural disaster.
Human-led interference (Vandalism, theft, etc).
Whether you own the physical building or you're leasing the space, commercial property insurance is key to the stability of your practice.

Nice-to-have types of insurance
The aforementioned types of insurance are considered "must-haves" in order to protect your business and your employees.
However, there are also various types of insurance that are considered nice for medical practice owners to have if circumstances permit. These "nice-to-haves" include:
Commercial auto insurance. Do you have practice-owned vehicles? If so, this will cover drivers against damage and liability in an accident.
Cyber insurance. How tech-savvy is your practice? This will cover costs that may arise from a cyber hack or data breach.
Of course, these are just a few of the many types of business insurance out there. It's important to perform your due diligence to ensure that your practice is sufficiently protected.

Key takeaways
From the moment your private medical practice opens, you're exposed to various liabilities. One accident, lawsuit, or disastrous event could be enough to crush your business before it gets off the ground.
That's why it's crucial that you have the following types of insurance in place:
Group disability insurance.
Medical malpractice insurance.
Business overhead insurance.
Commercial property insurance.
These "must-haves" are no-brainers for a reason. However, you may need to place a higher priority on the "nice-to-haves" depending on the specific nature of your practice. After all, it's better to be safe than sorry.