Travel Doctor: A Full Guide for Traveling Physicians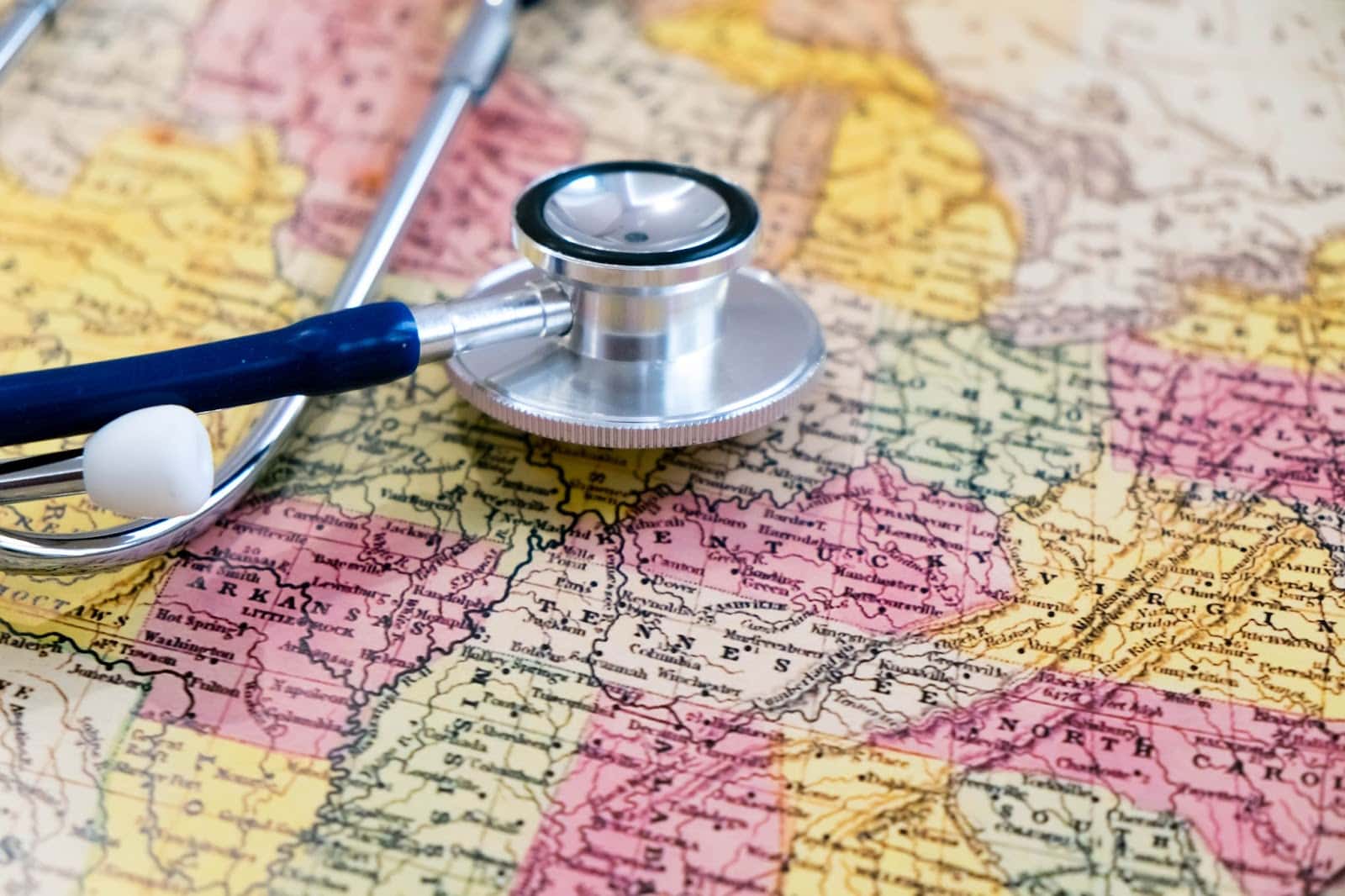 Many medical professionals find the traveling physician lifestyle appealing. The opportunity to see the world, as well as to treat patients who are most in need of care, are just two reasons why some doctors pursue this career path.
But like all career opportunities, it comes with pros and cons.
Our full guide for traveling physicians will show you everything you need to know — from getting licensed in several states to knowing which insurance to carry.
---
What Does it Mean to Be a Traveling Physician?
As the name suggests, a traveling physician is a clinician who moves across different cities, states, and sometimes even countries to provide medical care on demand.
Most doctors sign an employment contract to work in a specific hospital or practice for X amount of years. Traveling physicians, however, go when and where their expertise is needed.
You can still practice the medical specialty for which you received training, whether you're a board certified general surgeon, a hospitalist, or an internal medicine specialist. You'll just do so from various locations rather than from one specific workplace setting.
Travel assignments may be part-time or full-time. They can be as short as two weeks or last for months. It all depends on if, when, and where there is a need for a physician with your training and expertise.
Are Traveling Physicians the Same as Locum Tenens Physicians?
A locum tenens physician is a doctor who temporarily fills in for another doctor at a hospital or medical practice.
People sometimes assume that all locum tenens physicians are traveling physicians, but that's not necessarily the case.
Most traveling doctors are locum tenens physicians. Having said that, not all locum tenens physicians travel.
Some locum tenens physicians choose to strictly work temporary or short-term assignments close to home. Others pick up local locum tenens jobs on the side as a way to earn extra income without leaving their hometown. Neither are considered traveling doctors.
Physicians of any specialty can become traveling professionals. The availability of work for traveling physicians has less to do with experience and more to do with supply and demand.
The likelihood that you can find temporary, traveling doctor positions will increase whenever your medical specialty experiences a doctor shortage.
You Might Like: Everything You Need to Know About Working as a Locum Tenens Physician
---
Most Traveling Physicians Are Independent Contractors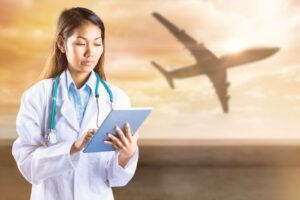 Traveling doctors who take on locum tenens assignments work as independent contractors.
They do not have a specific employer, nor are they operating as anyone's "employee." There are both benefits and drawbacks to working in this capacity.
The Pros of Working as an Independent Contractor
Here's a glimpse into some of the key benefits to choosing a traveling career:
Enjoy a Better Work/Life Balance: Work where you want and when you want. Take time off when you need it. This flexibility allows for a better work/life balance and makes it easier to pursue other interests beyond medicine.
Work Anywhere in the World: Whether you dream of living and working in New York City, sunny Florida, or a quiet Midwestern town, traveling doctors have a unique opportunity to explore new places and live in different parts of the world.
Discover New Workplaces: In addition to exploring new cities and towns, traveling doctors can work in various workplace settings. Traveling physician positions exist in hospitals, private practices, community clinics, emergency medicine and urgent care centers, and other clinical settings.
Focus on Patient Care: You can avoid the bureaucracy of healthcare administration. That's because you'll focus 100% of your time and effort on patient care, rather than administrative tasks.
The Cons of Working as an Independent Contractor
There are some downsides to working as an independent contractor, and it's important to consider the good with the bad. Here's a look into the key things that physicians find challenging about the traveling lifestyle.
Purchasing Your Own Insurance Policies: Independent contractors are required to pay for all of their own expenses, including the cost of health insurance, malpractice insurance, disability insurance, and life insurance.
Paying Taxes Quarterly: Independent contractors aren't employees, so they don't have an employer to withhold taxes for them. Independent contractors are responsible for withholding their own taxes and making state and federal tax payments four times per year.
Less Stability: Because they go when and where they're needed, traveling physicians sometimes have less stability than full-time employees. Depending on your field of medicine and how far and often you're willing to travel, it may or may not be possible to turn locum tenens positions into full-time work.
---
How Much Do Traveling Physicians Make?
Healthcare providers can earn significantly more money per hour working as a traveling locum tenens physician than as a permanent employee of a hospital or medical group.
Studies show that full-time traveling physicians earn $32.45 more per hour than their employed counterparts.
There is no "average salary" for a traveling doctor. Pay rates vary based on specialty, region, and level of experience. In fact, there are huge swings in salary that depend upon the current supply-and-demand of providers in both your specialty and the region where you're traveling.
For example, you can make significantly more per hour in an underserved area of Kentucky or Alabama than you might in NYC, Boston, or San Francisco, where there is little to no shortage of medical providers.
Check Out: The Locum Tenens Physician Assistant Guide
---
How to Become a Traveling Physician
Traveling and working in different states requires physicians to take a few extra steps. These are steps that doctors don't have to worry about when they're working from only one location.
Here's a look at what you need to do to become a traveling physician:
Obtain Your License in Several States
You must hold a medical license in every state where you work.
Applying to state licensing boards is a tedious and time-consuming process. The good news is that you can make it easier by applying through the Interstate Medical Licensure Compact (IMLC).
The IMLC speeds up the process and makes it possible to obtain your license in multiple states at the same time. You no longer have to fill out applications and submit certifications over and over again.
Send your applications and documents to the IMLC one time, and you can obtain a license in every state that participates in the compact.
Most states are already a part of the IMLC but a few states have yet to implement the program. They are:
Hawaii
Indiana
Massachusetts
Missouri
New Jersey
New Mexico
New York
Pennsylvania
Rhode Island
Virginia
Washington, D.C.
Refer to the IMLC participation map to see where each state or district is in the process.
In some cases, the legislation has just been introduced. In other states, the IMLC has passed but implementation is still in progress.
You'll Need to Protect Yourself With Individual Insurance Policies
Traveling physicians that work as independent contractors need to protect themselves with their own insurance policies, including:
Health insurance
Disability insurance
Life insurance
Malpractice insurance
What Type of Disability Insurance Do You Need?
An individual disability insurance policy is something that all physicians, traveling or not, should have.
Why?
Because it's the best way to protect your finances and continue to earn income if you become too ill or injured to work.
Disability insurance allows you to collect up to 60% of your current salary if a disability renders you unable to work. However, some disability insurance policies make it more difficult to collect benefits than others.
Every disability insurance policy includes a definition for what it considers to be a "disability." Physicians should always choose the own-occupation definition, which allows you to receive benefits for an injury or illness that prevents you from doing your current job.
The benefit of an own-occupation policy for traveling physicians is that they can collect disability benefits from their current job, while still being free to work in other positions. Otherwise, most disability policies require you to have an injury or illness so severe that you cannot work any job at all.
What Type of Malpractice Insurance Do You Need?
While some locum tenens staffing agencies provide malpractice insurance for traveling doctors, many physicians prefer the protection and peace of mind of having a policy of their own.
When purchasing malpractice insurance, be sure to select an occurrence-based policy rather than a claims-made policy.
An occurrence-based malpractice insurance policy protects you against any and every claim when the policy was in effect. It doesn't matter how many years later the claimant files a malpractice claim, which means you don't have to worry about purchasing tail coverage when the policy ends.
If you choose a claims-made malpractice insurance policy, you will also need to purchase tail coverage that protects you against claims made once the policy ends.
Tail coverage can be expensive. While occurrence-based policies have a higher up-front cost, they can actually be cost-effective in the long run and save you money.
---
How to Find Open Positions as a Traveling Physician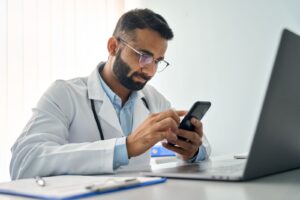 There are many ways to find locum tenens positions that will allow you to travel, including online job alerts and job search boards.
Working with a locum tenens staffing agency that specializes in placing doctors in open positions is the easiest way to find jobs.
Locum tenens agencies function as recruiters. They help place the right doctors in the right physician jobs. Yet unlike traditional recruiters in other industries, they do more than just "find you a job." Locum agencies can also:
Assist with credentialing and privileging
Help make travel arrangements
Aide in finding temporary housing
Identify opportunities that could turn into permanent positions (should you decide you don't want to continue to travel)
Keep in mind that you don't have to be a locum tenens physician to travel.
Many doctors will tap into their professional network and reach an independent agreement with a hospital or practice that needs their expertise. It's a viable option but can make it more difficult to find steady, consistent travel positions.
Traveling positions are available whether you provide critical care services or work as a primary care physician. But it's still easier to find them in some specialties than in others.
Physicians in extremely narrow subspecialties often find it harder to maintain a career that involves frequent travel.
---
Should Traveling Physicians Maintain a Home Base?
Some medical professionals enjoy the nomadic lifestyle. Most choose to put down roots somewhere, especially if they have a spouse, a partner, or children.
You will likely stay in a hotel when working and traveling for brief periods of time.
If you're working a longer contract, it might make more sense to live in an extended-stay hotel or sign a short-term lease on a furnished apartment. Either way, most physicians like the idea of having a home base to call their own, and many of them apply for a doctor loan to purchase a home.
Doctors often seek home financing through physician mortgage lenders for the fact that they require little or no down payment, no PMI, and no work history. Employed physicians can get a doctor loan with zero work history, as long as they have an employment contract as proof of income.
Doctor loans work a little differently for locum tenens physicians.
Lenders usually require locum tenens physicians to provide proof of their work history. Many ask that you show at least one or two years of filed tax returns to prove that you earn steady income as an independent contractor and self-employed doctor.
Keep in mind that if you plan to travel for months at a time and think you can make some extra money by renting out your home, you can't do that with a physician mortgage. Doctor loans are for primary residences only. If you rent it out, it's considered a violation of the terms of your loan.
---
The traveling lifestyle isn't for everyone. Nevertheless, it's an exciting opportunity that many medical professionals enjoy.
Not only is it an opportunity to see the world, but it's also a chance to earn more money than you might in a permanent position. You'll also be providing care where people need it most.
If you're ready to adopt a nomadic lifestyle as a traveling medical professional, contact LeverageRx now. We can help you find the best malpractice insurance — as well as the best disability insurance provider — to protect you while you travel for work.
Read About: What Are Physician Car Loans & How Do They Work?