6 Business Skills Every Private Practitioner Needs to Succeed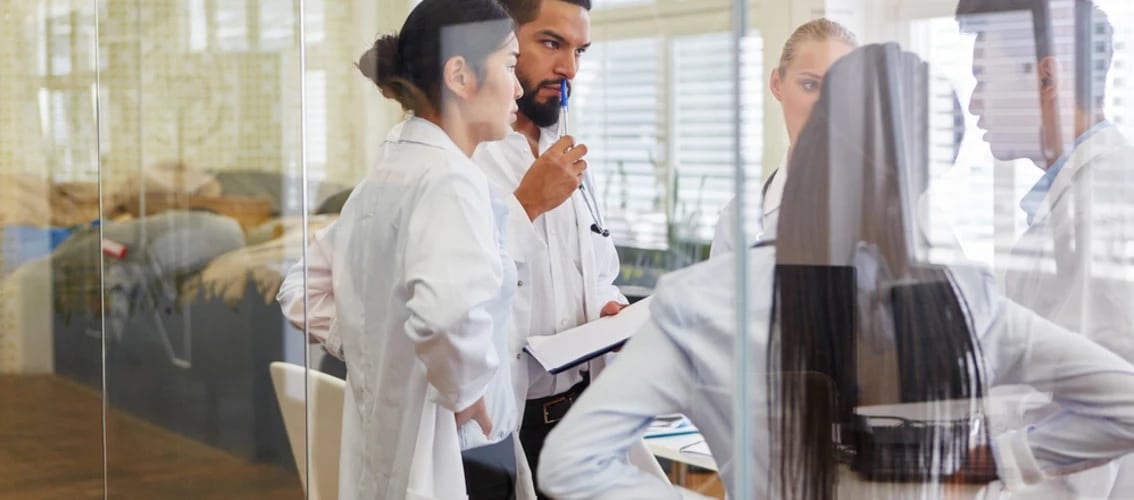 If you've been working at a large health care facility for awhile, going solo may be just what the doctor ordered. But this newfound independence will certainly come at a price.
Sooner or later, most medical professionals at least consider the possibility of opening their own practice.
In a professional field plagued by burnout, this should come as no surprise. Freshbooks' 2018 Self-Employment Report found 10% higher career satisfaction among self-employed individuals than those who work for traditional employers.
Like any other type of business, starting a medical practice is as challenging as it is rewarding. To get it right the first time, you need to think like a savvy small business owner. (That's a big ask for those who spent a decade studying medicine.)

1. Developing a strategic plan
Every successful small business owner has one trait in common: the ability to forecast well ahead of time and plan accordingly. That's where creating a strategic business plan comes in.
In order to create a business plan for your medical practice, you need to accomplish the following:
Define your target market. What the type of clientele you plan on attracting? Think age, location and other demographic traits.
Project your expenses. You have to spend money to make money. How much will it cost to get your practice up-and-running? This includes the cost of a building lease, equipment, operations and other essentials.
Project your revenue. How much do you anticipate to earn over the course of the first 3 years? Be as realistic (and brutally honest) as possible.
Establish your brand. How do you want people to view your medical practice? What marketing channels will you use to spread your messaging and communicate your mission?
Needless to say, there's a lot time and effort that goes into developing a solid business plan. If developing a business plan seems overwhelming, you can always seek the outside help of an experienced business strategist.

2. Identifying a smart source of financing
With huge startup costs to shoulder, many entrepreneurs need a financial boost to kickstart their ventures. In most cases, the logical solution is to take out a small business loan. The same goes for your medical practice.
Fortunately, many financial institutions have a healthcare lending division that will provide tailormade medical practice loans for independent practitioners.
In order to obtain medical practice financing, you are going to need to apply with various lenders who offer them. This will allow you to compare different options to make sure you are getting the most favorable offers and terms that are available.
3. Obtaining the proper equipment
It doesn't matter what industry niche you occupy or product suite you sell:
The chances of a business surviving and thriving are slim-to-none without the right equipment.
With this in mind, it's important to consider all of the medical equipment you need in order to run your practice smoothly. Of course, what you need and how much it is going to cost will heavily depend on your medical specialty.
In addition to the unique medical equipment needed to operate a private practice, you also need to consider the basics, such as:
Technology and communication systems.
Office furniture and supplies.
It may help to explore leasing options for your medical equipment to minimize your initial start-up costs.

4. Fully staffing your practice
An important lesson that every business owner learns earlier on is that a successful business cannot be run by the owner alone. You must think about the kind of staff, both clinical and non-clinical, that you should bring on board.
This includes:
Certified nurses, hygienists or assistants.
A front office team.
Aim to hire highly qualified and competent staff members. The best way to do so is to post detailed job descriptions on credible job sites and networks specific to the health care industry.
But professional certifications and relevant experience aren't the only boxes that applicants should check. You should also make sure who you choose to hire understands your core values. This is ultimately the driving force behind the mission of any successful small business.

5. Defining your billing process
Billing is one of the most important components of any business. Sure it's dull and monotonous, but it's how you get paid!
Every business owner has to think of the type of billing system to adopt for his or her business. As a medical practitioner, you also need to decide on the type of billing system to implement.
When it comes to selecting a billing system, the first decision you need to make is this:
Are you going to outsource your billing?
Or, are you going handle all of your billing needs in-house?
The advantage of outsourcing is that it takes much of the workload off your staff. If you decide to bill in-house, you should bring someone on staff who has the experience needed to succeed.

6. Marketing your services
Every new business wants to become a household name.To ensure that your target market knows about the presence of your new practice, you need to market it extensively. Many private practices rely on old-school tactics, such as:
Word-of-mouth referrals.
Traditional media, such as TV ads or billboards.
But the right digital marketing strategy can prove to be even more advantageous and cost-effective. This may include a combination of the following online channels:
Search engine marketing.
Content creation (social media, blogging, etc).
Email marketing.
Digital advertising.
Because this all relies on a sleek, modern website that's easy to use, you will likely want to hire someone else to manage your marketing efforts for you. Consider bringing a seasoned pro on full-time or hiring an outside agency. Which route you elect all depends on the size of your budget and the level of growth you are seeking. Either way, you will want someone will who is digitally-savvy and has experience in the medical market.

Key takeaways
A smart, savvy business owner is able to balance the planning for the future with executing in the present.
While aspiring medical practice owners will often consult outside help, important to understand the value these business objectives carry:
Developing a strategic business plan.
Identifying a smart source of financing.
Obtaining the proper equipment.
Fully staffing your practice.
Defining your billing process.
Marketing your services.
Using the above tips when starting your own private practice will draw you one step closer to building a successful, profitable practice.