Do You Need a Fellowship After Residency? A Complete Guide.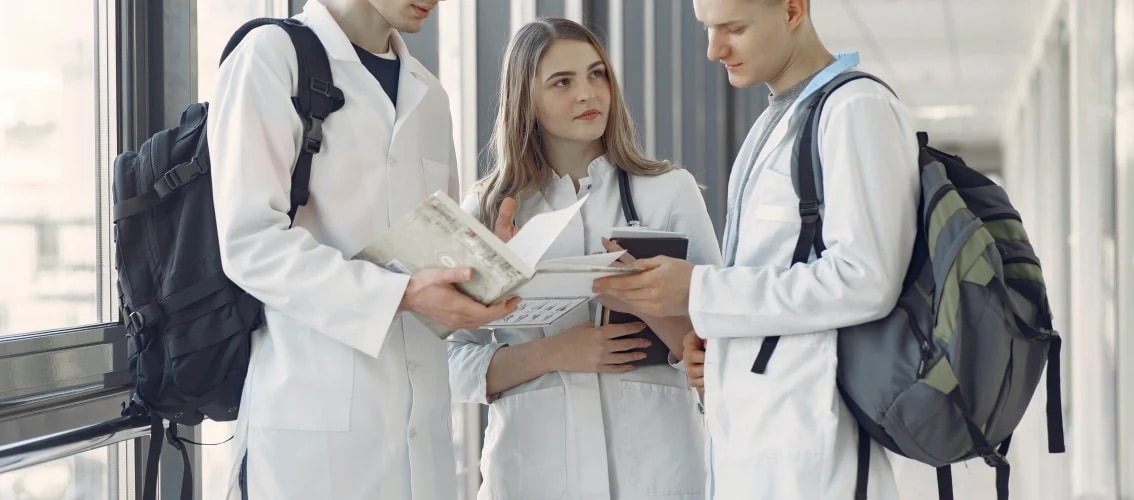 After residency, many doctors have to ask themselves: Do I want to apply for a fellowship? Fellowships come with more years of training, but fellows are often viewed as the top practitioners in their fields. Plus, fellowships help you get specialized training that you may need later in your career. Is a fellowship the right move for your medical career? This guide can help you find out.

What is a Medical Fellowship?
A fellowship typically happens after your residency and is additional training in a chosen specialty. The types of fellowship specialties seem endless, but a few examples include: Pediatric Emergency Medicine, Transplant Hepatology, and Endovascular Surgical Neuroradiology. Fellowship positions are coveted and not everyone will be granted one. For example, there were 12,925 fellowship applicants in 2021 but only 10,433 matched. As a fellow, you'll be fully responsible for patient care in the specialty of your choice. You will have supervisors, but the idea is to train quickly, so you'll be given much more responsibility than you were as a resident.

How Long is a Medical Fellowship?
There is no set length of a fellowship. It'll differ depending on your specialty, but in general, surgical fellowships require longer commitments. To get a sense of how long a fellowship in your speciality may be, take a look at the list below.
Neurosurgery: 7 years
Plastic Surgery: 6 years
Urology: 5 years
Otolaryngology: 5 years
General Surgery: 5 years
Obstetrics/Gynecology: 4 years
Psychiatry: 4 years
Pediatrics: 3 years
Internal Medicine: 3 years
What are the Requirements for a Medical Fellowship?
In order to be considered for a fellowship, you need to have completed your residency program. Additional specific requirements will vary depending on your specialty and program, but generally fellowships are only awarded to those who demonstrate excellence in their field. Since fellowship requirements vary so much, here are a few examples:
Vascular Surgery Fellowship at Duke
Duke University and their associated hospital are continually ranked among the nations best medical schools and hospitals. Their Vascular Surgery Fellowship is just one of the many fellowships they offer. Their list of requirements includes:
The completion of a general surgery residency program that is accredited by the ACGME.
You must be eligible for Board Certification from the ABS at the start of fellowship (July 1st).
Complete all United States Medical Licensing Examination (USMLE) requirements.
You'll need to provide at least three letters of recommendation from ABS Board Certified Surgeons.
Provide a professional Statement of Goals and Career Objectives so those reviewing your application can learn why you should be considered for candidacy.
You'll need to complete an interview with the Program Director and any faculty members.
You must deliver a completed application to the Program Director by February 15th.
General Pediatrics Fellowship at Johns Hopkins
A more general fellowship at an equally as prestigious university comes with slightly different requirements. You'll have to meet basic licensing requirements, of course, but you'll also need to:
Prove a strong academic background and an excellent performance working in a clinical setting
Complete an ACGME-accredited pediatric or medicine-pediatrics residency program; OR show that you graduated from a Ph.D. program in a related field
Show that you have permanent residency in the United States, either through U.S. citizenship or a permanent immigrant status
Provide three letters of recommendation, one being from your Program Director if you're a current resident
How to Make Your Fellowship Application Stand Out
To secure fellowships like the ones mentioned above, you want to make every effort on your part to be a standout candidate. Here's a few tips.
Be prepared
It'll be obvious if you haven't taken the time to familiarize yourself with the application process. Get organized when you first start applying for fellowships. Each application may require something different, so make sure you're doing your research.
Make sure you're academically qualified
If you weren't the best performing medical student or resident, you may have a harder time competing with those of your colleagues who did. Before deciding to apply, ask yourself honestly if a fellowship is the right move for you.
Practice interviewing, and then practice more (!)
Your interview is a vital part of your application. You'll need to show that you're confident and capable of doing the work you'll be asked to take on.
Get to know your professors and colleagues
Next to the interview, your letters of recommendation will be an important component of your application. Take the time to make connections and make a lasting impression. That way, your supervisors have nothing but good things to say when it comes time to apply for fellowships.

Pros and Cons of a Medical Fellowship
Let's break it down in easy pros and cons to help decide if a fellowship after residency is right for you.
Pro: You get the best training
The whole point of a fellowship is to get training from your more experienced peers. Many of the hospitals that participate in fellowship programs are top-tier hospitals, often attached to universities. This means you'll be getting some of the best hands-on experience in your specialty.
Pro: Fellows look unique to employers
Since fellowships are hard to come by, those who get selected have an advantage over their peers who opted not to do fellowships. When it comes time to job-hunt as an attending physician, this can make you stand out to hospitals and practices.
Pro: Fellowships can help you travel
While there's a limited number of specialities to choose from if you're looking to travel on a fellowship, there are some that can help you live abroad. Global health is a common fellowship that offers you the chance to travel and work in another, often underserved, country. Many of the fellowships abroad will provide a stipend to relocate and find living arrangements. To find a list of some overseas opportunities available for physicians, head to AAFP's website where they offer a list of global health fellowships.
Con: You don't get a full attending physician salary
Salaries among fellows are a bit dismal. It'll vary some depending on your specialty, but generally, fellows should expect to make around $70,000 – $100,000/year. That's similar to what you were making as a resident. This may be why many doctors opt not to do fellowships and instead jump into being an attending physician.
Con: Fellowships often require long time commitments
There are plenty of fellowships that are only a year long, but more complex specialties can have fellowship programs that go on for three – seven years. These are prime income years for you as a younger physician. You're finally out of residency and you may not want to spend the next few years training all over again.
Con: Fellowships can be expensive to apply for
This is one of the biggest cons when it comes to fellowships. They can be very expensive to apply for, depending on how many programs you're sending applications to. The application cost is similar to the process you undergo in residency, so many of your applications will go through the Electronic Residency Application Service (ERAS). You'll pay $105 to register with the ERA, and another $115 for your first 10 applications. For there, the price gets a bit better, ranging from $13 – $26 per application. Many residents apply to dozens of programs, which brings their total cost of application fees alone into the hundreds of dollars range.
For interviews, you're looking at a couple of thousand dollars to travel. In fact, according to the AMA, 62% of fellowship applicants spent more than $4,000 on interviews.

Do you have to do a Fellowship After Residency?
No. Fellowships are not required, per se, but they are encouraged. You absolutely can go from residency to attending, many physicians do. However, doing a fellowship allows you to specialize even further, if that's something you wish to do. Plus, for some ultra-specific specialties, there may be no other way than taking on a fellowship in order to get the training you need.