Does the Military Pay for Medical School?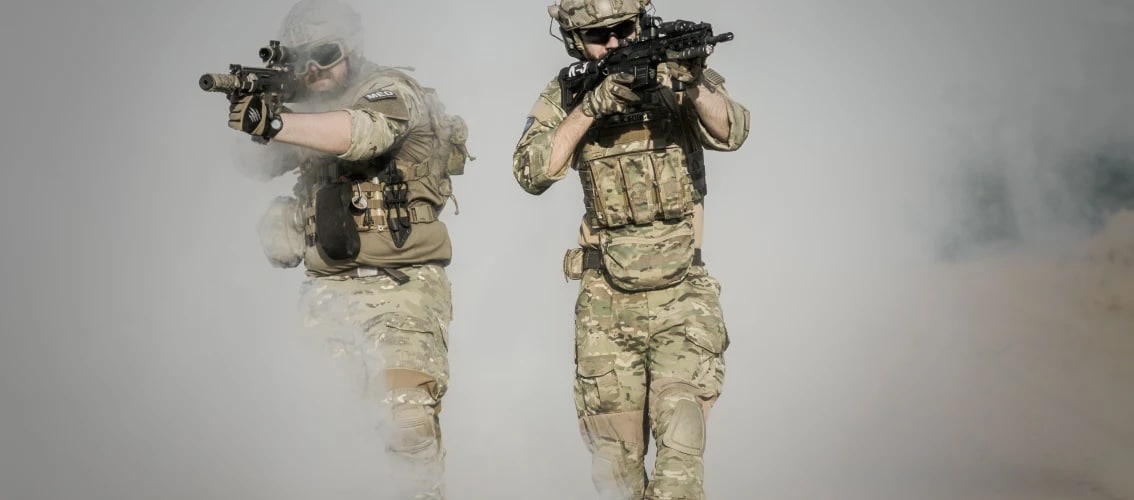 Many people join the military looking for financial help in paying for college. But will the military pay for medical school? The short answer is yes. However, there's no general scholarship or grant program that covers medical school costs for every branch of the military. Some branches have stricter requirements, and all have different minimums for time served. Let's dive into how to get the military to pay for medical school so you're not stuck with hundreds of thousands of dollars in student loans.

Health Professions Scholarship Program (HPSP)
The Health Professions Scholarship Program (HPSP) is offered by the United States Army, Navy, and Air Force. Accepted students studying to be either a medical doctor or dentist can get the full cost of tuition covered by the HPSP. In addition, any health insurance costs will be covered and any school-related expense will also be covered. Students even get a living stipend of about $2,000 each month.
Army Requirements for HPSP
For starters, you must be pursuing one of the following fields of study in order to qualify for the army HPSP:
Medical (including those study Osteopathy)
Dental
Veterinary
Nursing
Counseling and Clinical Psychology
Optometry
In addition, you'll also have to meet the following requirements:
U.S. citizen
Be on active duty status in the army
Qualify as a commissioned officer
Be in the process of completing or have already completed a bachelor's degree from an accredited university
Prove that you have been accepted to an accredited graduate, doctoral, or medical school program within the U.S. or Puerto Rico
Maintain full-time student status during the entirety of your program
Assuming you meet all of the requirements above, you will also need to commit to spending one year in the army for every year you spent in the program (with a minimum of two years). So, if the HPSP paid for all four years of your medical school, you'll need to do a four-year stint in the army.
Navy Requirements for HPSP
The U.S. Navy has similar requirements to the army. You must be enrolled in one of the same medical programs and meet minimum age and citizenship requirements. The key difference between the army and navy programs for HPSP is minimum time served. While the army has a two year minimum, the navy requires three years. So even if you used the HPSP for just a year or two, you still need to serve a full three years if you got it through the navy.
Air Force Requirements for HPSP
Again, the United States Air Force has similar requirements to both the navy and army, but the air force requires a minimum of three years (or four if you accept the sign-on bonus). In addition, they have some added requirements, including:
GPA of at least 3.2
You must have an MCAT score of at least 500 (or at least 124 in each subsection of the test.
Financial Assistance Programs (FAP)
By offering grants of up to $45,000 and monthly stipends of $2,000+ to cover living expenses, Financial Assistance Programs (FAP) help medical professionals fund their residency. In addition, FAPs often come with a sign-on bonus to sweeten the pot.
Army Requirements for FAP
The army awards FAP grants to U.S. citizens who are pursuing medical, counseling, or clinical psychology careers. In addition, they require that participants commit to serving active duty in the army after the completion of their residency. Your service commitment is equal to two years for the first year of participation in FAP, plus one "half-year" for each "half-year" minimum.
Air Force Requirements for FAP
The Air Force awards FAP assistance to those pursuing medical or dental residency. Once you finish your residency, you will be required to serve one year for every year of FAP assistance, plus one additional year.
Navy Requirements for FAP
FAP through the navy is awarded to physicians and dentists who are, or will be, participating in a residency or fellowship program. In order to qualify, residents and fellows must be progressing towards a specialty that is considered critical by the Department of Defense. In order to qualify, applicants must have been commissioned before they turn 42 years of age, or obtain a waiver. Waivers are available to those up to the age of 57 and are awarded to those with exceptional records and skills valuable to undermanned specialties. In addition, the navy requires that all FAP applicants meet the physical standards set forth in the Manual of the Medical Department (chapter 15). The navy has quite a few requirements for FAP, which you can find here.

Specialized Training Assistance Program (STRAP)
The United States Army offers the Specialized Training Assistance Program (STRAP) to those currently in residency in the medical, dental, or nursing field. Participants will be awarded a stipend of $2,000+ per month to help pay for costs, like food and housing, as long as they meet the requirements set forth. These include a commitment to join the Army Reserves and serve when called upon, as well as proof of current enrollment in an accredited, qualifying, residency program.

Health Professions Loan Repayment Program (HPLRP)
The Health Professions Loan Repayment Program is designed to help those joining the army or navy pay off medical school debt. You can receive up to $40,000 each year in loan repayment, and the payments will be sent directly to your lender. Like the other scholarships and programs on this list, you will need to also serve time in either branch to qualify. In addition, your medical specialty needs to be required, as determined by the Secretary of Defense, in times of war.
Navy Requirements for HPLRP
In order to be eligible for the HPLRP in the Navy, you'll need to meet the following requirements:
Be a qualifying commissioned officer in a health profession
Be willing to sign a written agreement to serve on active duty for a certain time period
Not be currently enrolled in HPSP or FAP
National Guard Requirements for HPLRP
You can receive up to $250,000 in loan repayment support as a physician, psychiatrist, physician assistant, social worker, or veterinarian. In order to qualify for this program, you'll need to agree to a seven-year service commitment with the National Guard.

Medical & Dental Student Stipend Program (MDSSP)
The Medical and Dental Student Stipend Program offers army and National Guard medical and dental students a monthly stipend of a minimum of $2,270. Each participant will be required to take on a one-year service obligation for every six months they receive the stipend. The eligibility requirements are the same across the Army and Reserves. Through this program, you'll go through medical school as a commissioned officer in the military. Note that you will be required to drill one weekend a month, plus for two weeks during the year.

Should you let the Military Pay for Medical School?
While the military can help you pay your way through medical school, it comes with quite a few strings attached. It's important to consider if military life is right for you, before fully committing to the program. Many of these programs require you to drill while still in school, and then you will have to serve in the armed forces for two years, minimum (or more depending on the branch). If you're not fully committed to military life, you may want to consider alternative means for paying for medical school.