15 Best Physician Side Gigs & Hustles in 2023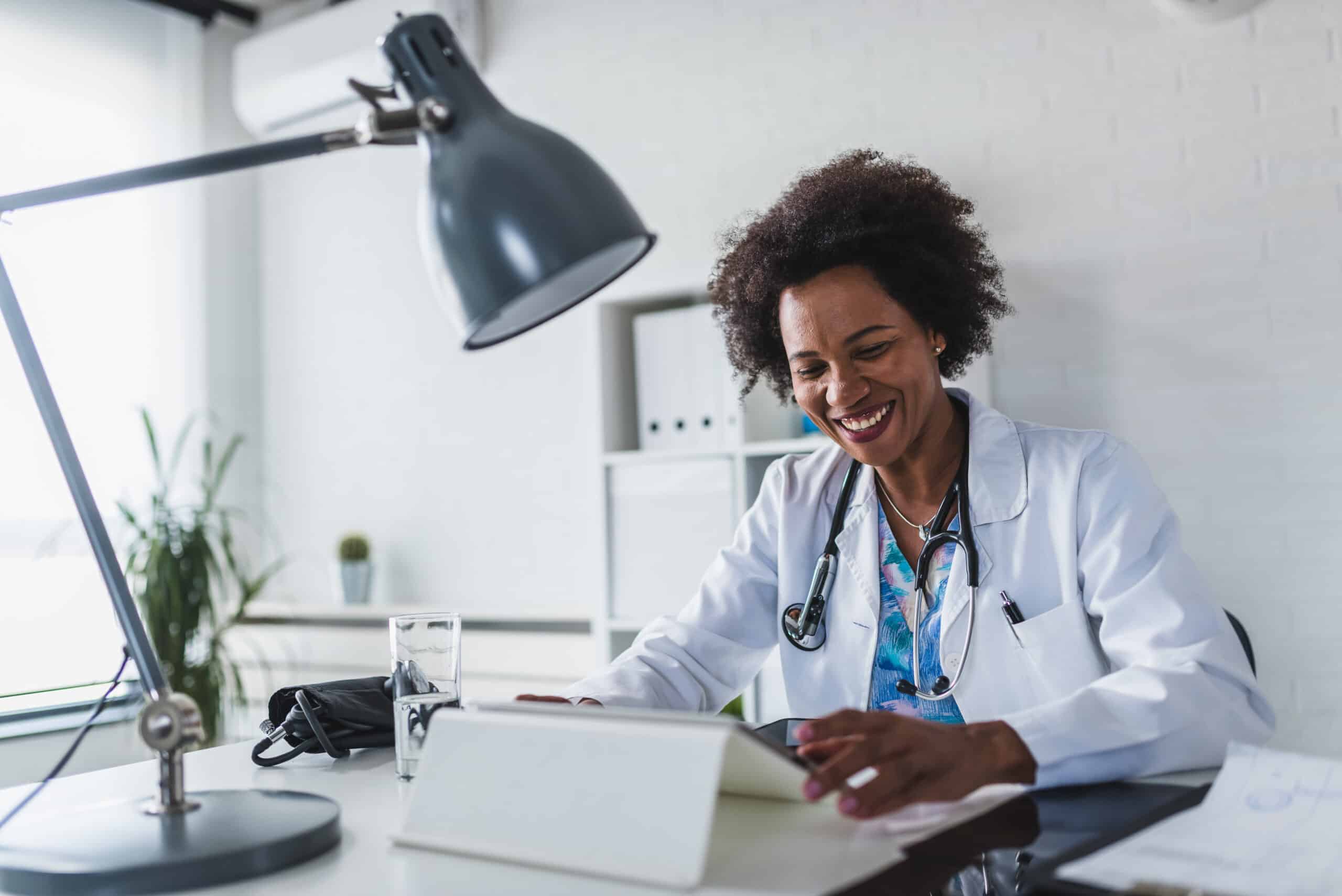 Physicians spend a lot of time learning about medicine and while it's undoubtedly one of their biggest passions, plenty of physicians have other interests they'd like to pursue as well. Having a side hustle can go a long way in providing an outlet for these passions. Or, it can simply be a way for doctors to earn more money. 
What are the best physician side gigs? That depends on many different factors. Let's break them down below. 

Why Physicians May Need Side Gigs
There are many different reasons physicians may need a side hustle. A few include:
To make more money
Physicians make $176,850 per year on average and a third of them make enough to qualify as part of the top 1% of earners. However, some doctors want (or need) to earn even more. This extra money can help them pay back debt, purchase a home, and save for their future at a faster rate. 
Residents, who earn only a fraction of what attendings make, may find side hustles especially helpful when it comes to just making ends meet. 
To follow a passion or hobby
It takes a certain amount of passion for medicine to get through all of the training required to become a doctor. However, many physicians have passions outside of their full-time job that they want to pursue, and a side hustle is one of the best ways to do so. 
To have a backup plan
Having a backup plan is always a good idea, even if you plan to be a physician for your entire working life. If you were to lose your job or become unable to perform it, a side hustle could help you easily transition into a new career.
To avoid burnout
The average doctor works 40 to 60 hours each week, but some work well over 80. These long hours, coupled with stress, can quickly lead to burnout. To combat this, a physician may start a side hustle in order to offset income lost by reducing their working hours. For some, it may allow them to leave the medical field entirely, or start a small private practice. 
To work towards financial independence
Doctors who wish to be financially independent can improve their chances of doing so by increasing their income. With this extra income, they can pay down debt, invest, and possibly even retire early.

Are Side Gigs Worth it For Physicians?
Whether or not a side hustle is right for you is going to depend on your personal preferences and life circumstances. Some doctors absolutely love spending all of their time at work, others want to dedicate more time to family or other personal goals. 
Ask yourself the following questions to find out if it's worth it for you: 
What is your time worth?

How much will a potential side gig

realistically

make you?

Would it make more sense to pick up extra shifts at your day job?

Will a side gig help you create your ideal life?

Do you have the energy and time to commit to an additional job? (this is an especially important one).
How to know when a side gig isn't worth it
Knowing when a side gig isn't worth it is just as important as knowing when it is. Before you decide a side hustle is right for you, make sure:
It doesn't take valuable time from your family and other priorities.

It's something that you enjoy doing or at the very least, you can tolerate.

It doesn't complicate your life.
Side Hustle Ideas For Physicians 
To find the right side hustle for you, start by looking at your current skills before putting time into learning something new. As a physician, you may find it easy to transition your energy into the following medical side hustles: 
Telemedicine

–

Telemedicine

connects healthcare providers and patients virtually, which can be done directly from your home. You can find and apply for telemedicine opportunities on online job boards, like

Indeed

or

LinkedIn

. 

Expert witness

– Expert witnesses are often called to testify in court on behalf of prosecutions and defenses. Depending on your experience level and specialty,

you could earn

hundreds

of dollars

for your participation in a case. 

Medical spa

– Medical spas offer spa services under the supervision of a physician. These services include anti-wrinkle treatments, laser skin resurfacing, filler injections, non-surgical fat reduction, and more. 

MCAT prep

– If you aced the MCATs, you may consider helping other medical students study for the exam. With this, you can offer one-on-one or group study sessions.

Medical blog

– Starting a medical blog is a great way for medical professionals to share their experiences with the world. Plus, it's relatively easy to do so. With free web creation sites like Wix and WordPress and plenty of step-by-step guides on creating a blog, it's something you can accomplish relatively quickly. 

Review health insurance claims

– Insurance companies need qualified physicians to evaluate certain health insurance claims. These jobs

are often remote and pay upwards of $25/hour

. 

Teaching

– High schools and universities often require medical professors to be licensed physicians. If you'd rather slow down and want to teach younger generations all that you've learned, teaching part-time can help you make a generous income. 

Medical surveys

– The government and pharmaceutical companies often conduct paid surveys to help change healthcare moving forward. You won't get rich doing these, but it is easy extra income. 

Clinical lab director

– Those who like the more clinical side of medicine should consider working in a lab part-time. There are plenty of full-time opportunities as well for those who may want to make the switch down the road.

 

Write a book

– You can write a book on anything, including your medical experience. Self-help books or just general medical research are just two topics you can discuss. This will be a longer-term project, so make sure you take that into consideration. Plus, you do need to have some basic writing talent (or at least a good editor). 
If you are in search of a side hustle that gives you a break from the medical world, you may consider: 
Real estate –

Becoming a real estate agent does take an initial time commitment for the classes you need to become licensed, but you have the potential to make a very high income. Plus, it takes many of the same people skills that are required to be a doctor. 

Become an Uber or Lyft driver –

Ridesharing is a super simple side hustle for anyone who has a reliable car. You can take shifts as needed, even if it's only a few times each month. 

Become a physical trainer or teach fitness

– This side hustle still allows you to help people stay healthy, but in a different way. If you're into yoga, physical fitness, martial arts, etc., consider teaching classes. 

Photography –

If you're looking for a more artistic element, consider taking up photography. You could be a nature photographer and submit photos to magazines and other publications, or you could do family portraits or weddings.

Invest –

Investing is a long-term strategy, often used to save for retirement, but you can invest more frequently in higher-reward investment options like real estate, for example. If you don't have any time to dedicate to your actual side hustle, investing more regularly may be a good alternative.
Related: How to Make Money in Medical School

How to Find The Right Side Hustle For You
In order to figure out which side hustle is right for you, you will need to consider a few things first.
Figure out how much time you have
As a medical professional, it's likely that you already have a busy schedule. How much time you realistically have to spend on your side hustle is a big factor in deciding which one is right for you. 
For example, if you only practice medicine part-time, you may have more time to take on a side hustle with a larger time commitment, like teaching or working at a medical spa. On the flip side, if you already work long hours, you may look for a side hustle that allows you to work when you want to, like ridesharing or starting a blog.
Consider what you're passionate about
Finding a side hustle that you're passionate about is important because it needs to sustain your interest. Since it can take time for your side hustle to become profitable, you need a reason to keep working at it, even when times get tough. At the very least, make sure the side hustle is an easier one if you're not wholly passionate about it. 
Consider the upfront investment
When starting a side hustle, you may need to invest some of your own money upfront. Depending on how much you have to spend, this upfront investment could sway your choice of side hustle. 
To ensure that you succeed, make sure that your new physician side gig is within your budget and doesn't put undue financial stress on you.