How to Get Your Medical License in Pennsylvania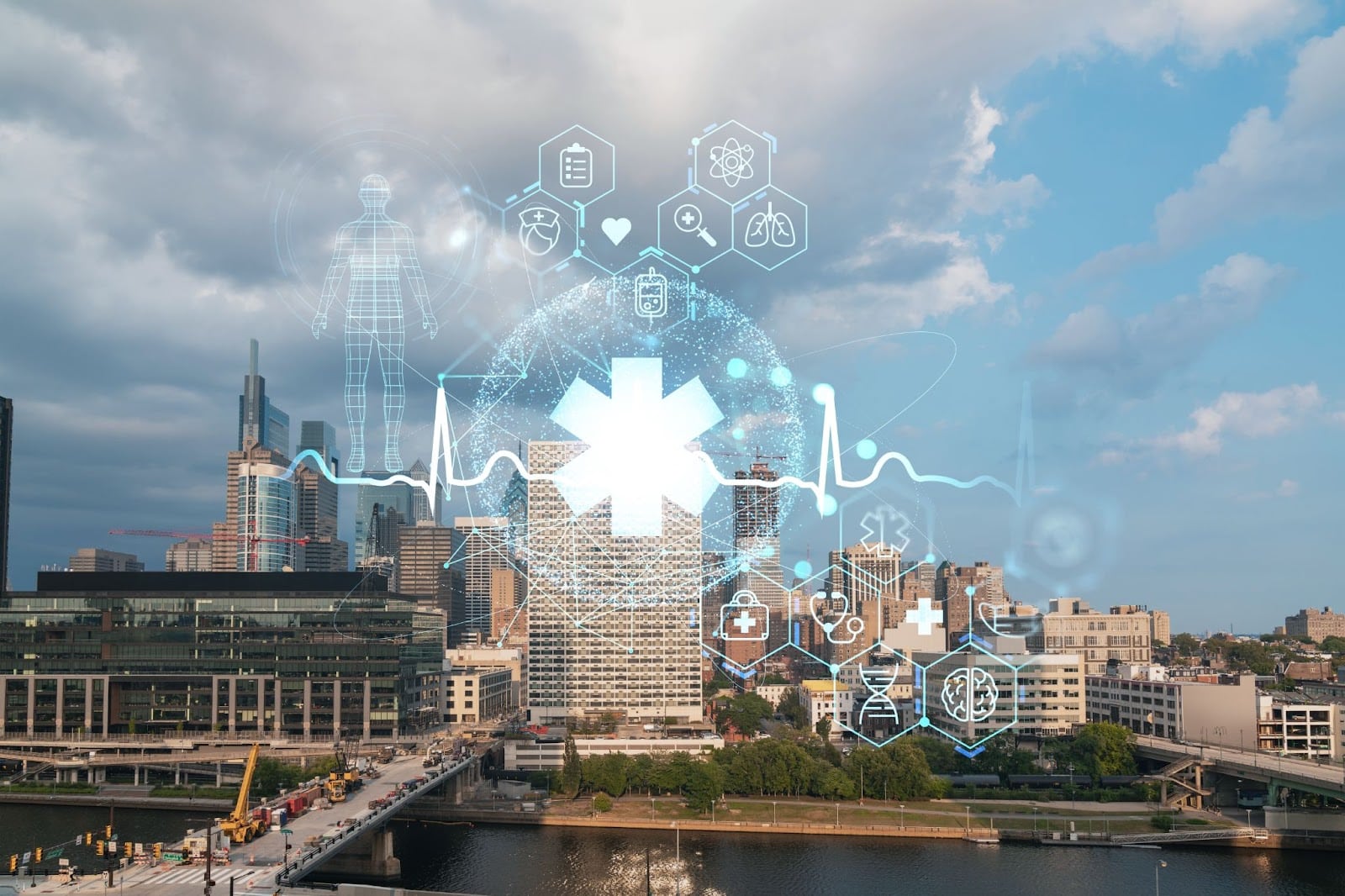 No matter which state you live or work in, residency training is only one of the final steps to become a physician. After you train and pass your required examinations, you'll also need to obtain a license from your state board of medicine. In some states, you can't even get your license to practice medicine without having a few CME credit hours under your belt.
Unfortunately, the Commonwealth of Pennsylvania is one of those states.
PA has a bit of a reputation for being a state that makes the licensing process difficult. There are multiple steps, some unique documentation requirements, and lengthy timelines.
So what is the PA application process like? How long does it take to get your license? What are the requirements?
We'll answer all those questions and more in this guide on getting your medical license in Pennsylvania.
---
What Are the Eligibility Requirements for Applying to the Medical Board of Pennsylvania?
To get licensed in Pennsylvania, you'll need to meet a series of eligibility requirements regarding your:
Education
Examinations
Personal and medical background
Whether you apply through the Pennsylvania State Board of Medicine or the Pennsylvania State Board of Osteopathic Medicine, here is an in-depth look at what physicians have to do in order to meet the PA requirements.
Education
You'll need a doctorate to apply for a PA medical license. You can apply using the accredited form if your degree is from an accredited medical college in the U.S. or Canada. If you obtained your degree from a medical college outside the U.S. or Canada, you'll need to apply with the unaccredited form.
Accredited medical school graduates must also have at least two years of post-graduate medical training, one year at the PGY-1 level and one year at PGY-2. Graduates from unaccredited schools must complete two years of approved medical training, meet all educational requirements, and obtain certification through the Educational Council for Foreign Medical Graduates.
The PA Department of State also has CME requirements for medical licensure. All applicants must complete a minimum of three hours of board-approved continuing medical education in child abuse recognition and reporting.
Examinations
There are specific exams you'll have to pass to get licensed through the Pennsylvania State Board of Medicine or the Pennsylvania State Board of Osteopathic Medicine.
To be eligible, you must have one of the following:
A passing score on Steps 1 through 3 of the United States Medical Licensing Examination (USMLE)
A passing score on Parts I through III of the COMLEX-USA examination
A passing score on Parts I and II of the Federation Licensing Examination (FLEX)
A passing score on the National Boards as determined by the National Board of Medical Examiners (NBME)
Passing various combinations and steps of different tests can also make you eligible:
A passing score on Part I of the National Boards or Step 1 of the USMLE, plus Part II of the National Boards or Step 2 of the USMLE, plus Part III of the National Boards or Step 3 of the USMLE (completed within a seven-year period)
A score of 75 on FLEX Part I and Step 3 of the USMLE (completed within a seven-year period)
A passing score on Part I of the National Boards or Step 1 of the USMLE, plus Part II of the National Boards or Step 2 of the USMLE, plus FLEX Part II (completed within a seven-year period)
Pennsylvania certainly makes it complicated, but at least you have options. To reiterate, you can become eligible for PA licensing by passing any of the appropriate combinations of examinations and steps listed above.
Clean Official State Criminal History Record
All medical professionals in Pennsylvania must have a clean official state criminal history record.
Also known as a CHRC, this background check will be automatically generated for the state you currently live in when you submit your PA application. You have to also provide one from every state you have lived in, worked in, or trained in for the past 10 years.
Remember that these background checks must be current, dated no more than 90 days prior to the date of your application.
---
How to Complete Your Application for Licensure
There are several steps involved when completing your application, all of which can conveniently be done online.
First, you'll need to create an account with the Pennsylvania State Licensing System (PALS). The PALS system provides a convenient application checklist to ensure you have all of your necessary documents and information prepared before applying.
Once you fill out your application through PALS, you can submit it to the Pennsylvania Bureau of Professional and Occupational Affairs (BPOA).
What's On the Application?
In addition to identifying information such as your full name, address, and social security number, you'll also need to provide extensive details about your:
Medical education
Examinations
Residency training
Any disciplinary history you may have
Through the Federation of State Medical Boards, Pennsylvania uses the Federation Credentials Verification Service (FCVS) to verify your medical education, post-graduate training, and test scores.
But you won't submit this information yourself — the FCVS requires that these documents come directly from the primary source. (Most states use FCVS for this purpose, so if you've already obtained a license in a different state, the FCVS will already have all of this information).
For example, proof of graduation must be sent directly from your medical school. Proof of test scores needs to come directly from the appropriate examination boards. Record that you've completed at least one year in PGY-1 and one year in PGY-2 will come straight from your residency program or training hospital.
Before you can get your medical license in PA, you'll also need to disclose if you have or have ever had medical licensure in another state. If so, the board will require verification of that, too.
The PA State Board of Medicine will also ask questions regarding any disciplinary actions you may have incurred in the past. You must provide them with a written explanation of all acts of criminal history, disciplinary actions taken against you in PA or any other state, or any malpractice complaints.
Full copies of all pages of legal and court documents must also be included.
Learn more about residencies: What is an Attending Physician?
---
Checklist of Forms Needed
Before applying for a Pennsylvania medical license, double-check that all necessary forms and documents are ready for submission.
Here is a handy checklist of everything you'll need:
Licensing application
CHRC criminal history report from every state you've lived or worked in over the past 10 years
Databank Report from the National Practitioner Data Bank
Education verification
Examination results
Proof of graduate and post-graduate training, including any fellowships you've completed
Letters of good standing (LOGS) from states that have issued you a medical license in the past
An up-to-date CV that accounts for all of your training, education, and experience
A complete and current checklist of forms is available on the PALS system.
---
How Long Will the Licensing Process Take?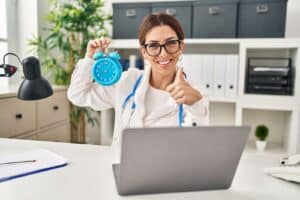 The licensing board does not specify processing times because they can vary. Medical doctors and DOs can generally expect to receive their license in approximately three to six months.
It's important to note that some IMGs in Pennsylvania are currently reporting that since COVID-19, their unaccredited applications are taking far longer than six months to process.
Approving applications with disciplinary actions or a history of malpractice claims can take even longer. The more the board has to investigate, the longer the process might take.
---
How Much Does it Cost to Get Your Medical License in Pennsylvania?
The price of a medical license in PA depends on whether you submit an accredited or unaccredited application, as well as which state board you apply through.
State Board of Medicine, accredited: $35
State Board of Medicine, unaccredited: $85
State Board of Osteopathic Medicine: $185 (increases to $205 on July 1, 2024)
The PA licensing application fees are low, but those aren't the only fees you'll pay.
The CHRC state criminal history check costs $22 in PA. You must pay for additional reports for each state you lived, worked, or trained in for the past 10 years, and prices vary by state.
There will also be an application fee to have the FCVS release your primary source verifications regarding education and examinations: $395.
PA physicians must obtain a DEA license within one year of initial licensure. To do so, you must provide documentation that shows the completion of:
Two hours of CME on pain management or the identification of addiction
Two hours on the practice of prescribing and dispensing of opioids
The DEA license is needed to prescribe medications listed as controlled substances. The registration fee for the DEA license is $731, and it's good for three years.
---
How Do You Get an Expedited Medical License in PA?
There is nowhere to apply to or any additional fee you can pay to get your medical license expedited. Applications are processed in the order in which they are received.
That being said, it is possible to submit a request to expedite your approval in one of the following two scenarios:
You are being deployed by the military.
You need to provide urgent patient care.
Just know there is never a guarantee that your request to expedite will speed things along. It may; it may not.
If you need your license quickly, there are several licensing services available online that may be able to help you. They can't guarantee a quicker approval, but they can help you expedite the application process which, in turn, can speed up the approval process.
---
Does Pennsylvania Accept an Interstate License?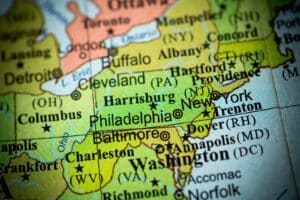 While every state has its own licensing requirements, the IMLC makes it easy to get licensed in multiple states at the same time. This is a massive benefit for traveling physicians and those that work locum tenens positions across state lines.
Pennsylvania may soon be one of those states.
Currently, 38 states take part in the Interstate Medical Licensure Compact. Legislation to add Pennsylvania to that list has passed, but implementation has been delayed.
For now, you still need to apply directly to the Pennsylvania State Board of Medicine or the Pennsylvania State Board of Osteopathic Medicine for licensing.
But there is another option:
The Licensure by Endorsement/Extraterritorial License Act 41.
Only eligible to certain physicians who don't meet the standard licensing requirements, this act allows physicians to obtain a license if:
They have a license (without restriction) to practice medicine and surgery in an adjoining state.
That license is in good standing.
They live or have a practice in an adjoining state.
They submit evidence that they are compliant with the professional liability insurance responsibilities required by the MCARE Act regarding malpractice insurance.
---
Recap
Medical doctors, DOs, nurse practitioners, physician assistants, and every other type of healthcare provider must hold a valid medical license to practice medicine in the Commonwealth of Pennsylvania.
Yes, the process can be tedious and a bit complicated, but it's a necessary part of working in the healthcare system in PA.
Looking to purchase a home or obtain malpractice insurance in Pennsylvania?
Contact LeverageRx now
to compare quotes on physician mortgages or malpractice insurance in PA.